The McEntire ARB, South Carolina, Airshow 1999
---
Please press the photos for a closer look.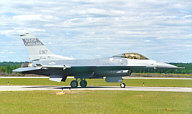 In the very capable hands of the Lockheed Martin demonstration pilot is the SCANG's 92-917.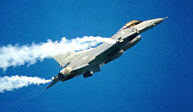 This demonstration marked the first public showing of the 1999 Paris Air Show routine.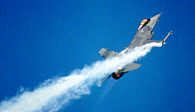 Smoke courtesy of a pair of 'Smokewinders' and flames from the Pratt and Whitney F-100PW-229.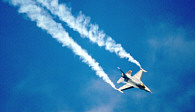 The fastest 4 minutes in aviation, note the Leading Edge Flaps 'clawing' at the air.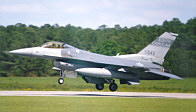 The South Carolina operates some of the newest F-16's in the ANG, the block 52, soon to be 'CJs'.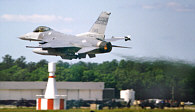 Moving out fast, you can feel the 29,000+ lbs of thrust as your teeth rattle in your head.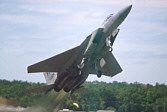 Not to be outdone, here is a quick pull off of the ground by the ACC's F-15C Demo Team.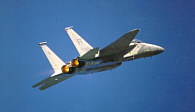 Still in it's takeoff climb, it more P&W power, this time from the 1FW, Langley AFB, Virginia.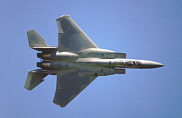 Here 82-0024 is caught in 'mid roll' (lucky shutter finger) note the deflected ailerons.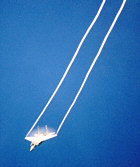 The result of a perfect South Carolina day as the Eagle pulls out of a dive.
---
(Home)
---
This site is hosted by