Equipment, Thanks, and Sponsors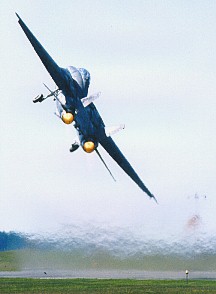 Equipment


Since this page started many people have asked what type of equipment I use - both photographic and computer. As far as the photography goes, I use a Canon A-1 (now considered a 'classic Canon') with a 50mm, a 35-105mm and a 80-210mm lens. Old? Well, this camera started it's life with my father in 1980, and it's been through a lot - from -20F to +120F, rain, snow, and sand. Even the Gulf War... and who knows how many rolls of film - and it's never once let me down (if I remember to change the battery) Speaking of film, everything you see here is taken on Kodak, 25 or 100 ASA for prints, or 64 ASA Kodachrome for slides. As far as the computer goes I have a 166MHZ Pentium Acer, and a Hewlett Packard ScanJet 5p. For the HTML coding, I have a few books, and I'm learning as I go.
---



Thanks


As far as thank you's go, I have to start with Dad, Mike Kopack (Sr), Phantom Productions main (and better) photographer. Also thanks go to TopEdge Engineering, this page's host.(www.topedge.com) I also have to thank the other webmasters out there that have linked to my page - especially Stefaan in Belgium (http://studwww.rug.ac.be/~svhastel/) and Jarmo in Finland (http://www.mil.fi/ftrsqn21/).

---



Sponsors


Well everything to support this page is free, so I don't have any sponsors. But if you have an extra Canon 100-300mm or brick of K-64 laying around let me know.

---
(Home)
---
This page is hosted by