The Point of the Spear - U. S. Marine Corps Aviation
---
Please press the photos for a closer look.
Page 1, see below for more...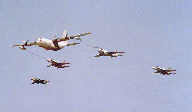 A Marine Corps mass flyby at MCAS Cherry Point, NC.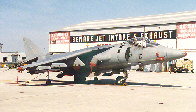 A Cherry Point based Harrier in the North Carolina sunshine.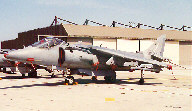 The AV-8B gives the Marines the unique capability of forward basing without permanent airfields.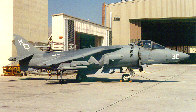 This VMAT-203 AV-8B is seen at the Naval Rework Facility at Cherry Point.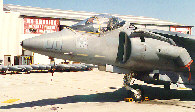 Here is the 'pointed end' of VMA-223's Commanders Bird, no bright markings here.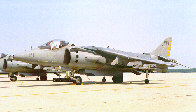 This Harrier, without the ventral gun pod (see the previous photo) sits ready.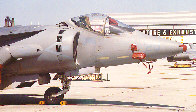 Showing it's British heritage the Harrier is one of the few US acft that is entered from the right side.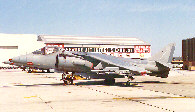 Another Bulldog of VMA-332, this time 04 with TER's and missile rails .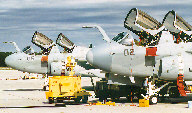 A pair of USMC Prowlers undergoing maintenance before the first flight of the day.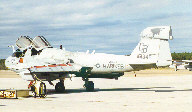 VMAQ-1's 161348 awaits her crew, note the open ram air turbine.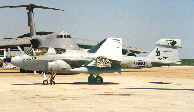 An EA-6B of VMAQ-3 (161779) taxis in after recovery.
---
(More Marines - F/A-18, Helo's, and OV-10's, plus a Phantom!)
(Home)
---
This site is hosted by