F-14 Tomcat:
History
Specifications
Bureau Numbers
Walk-Around Details
Squadrons
Photos
Books
Memorabilia

Other Topics:
Grumman A/C
EXTRA 400
A/C Photos
Links
Guestbook
Credits
The Author

Messerschmidt Me P1101 / Bell X-5





Messerschmidt Me P1101


The Bell X-5 origins from a 1944 design by Messerschmidt, called Me P1101. The Me P1101 was intended to be a possible replacement for the twin-engined jet-fighter Me262 and should have been faster and more agile than the Me262 because of the use of newly invented sweep-wings. The first prototype of the P1101 had already swing-wings, but these could change sweep angle only when on the ground. The engine was the Heinkel He S 011 jet-engine with only 12.75 kN!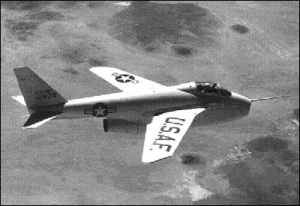 Specifications Me P1101

Engine Heinkel He S 011
Length 9.17 m (30 ft)
Height 3.70 m (12 ft 2 in)
Wing Span 8.25 m (27 ft)
Wing Area 15.80 sqm
Empty Weight 2150 kg (4740 lbs)
Max. Weight 3400 kg (7496 lbs)
Max. Speed 980 km/h (609 mph)
Ceiling 14000 m (45900 ft)
Range 900 km (486 nm)
Max. Flighttime 30 min.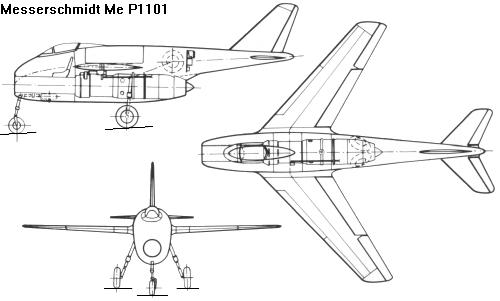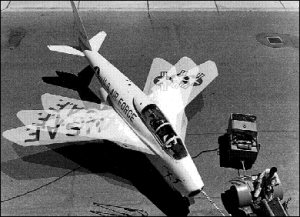 An extract from NASA papers: "The X-5 (1950 - 1954) was the first aircraft capable of sweeping its wings in flight. (Note by the editor: The Me P1101's wingsweep angle could only be changed on the ground) It was a single-place jet-powered aircraft measuring 30 ft in length with a wingspan of 19 feet (with the wings swept back 60 degrees). The wings could be swept back 20 to 60 degrees. The X-5 weighed 10,000 pounds when fully fueled.
"Its mission was to study the effect of wing-sweep angles of 20, 45 and 60 degrees at subsonic and transsonic speeds. Results from these tests provided some of the design background for the F-111 and the Navy F-14 tactical aircraft.

Two X-5's were manufactured by Bell Aircraft Co. The X-5 was powered by an Allison J-45-A jet engine with a static thrust of 4900 pounds. The maximum speed was 716 mph and the maximum altitude reached was 49,919 feet. The aircraft was equipped with an ejection seat.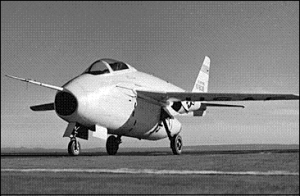 "The first flight was completed on June 20, 1951, with Jean Ziegler, Bell test pilot, at the controls.
"Results of the research program provided a significant full-scale verification of NASA wind-tunnel predictions for the reduced drag and improved performance resulting from increasing the wing sweep as the speed of the aircraft approaches the speed of sound. The pilots found they could use the variable wing sweep as a tactical control to outperform accompanying escort aircraft during research missions."