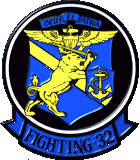 [ COMMAND ]

Commanding Officer
Executive Officer
Command Master Chief

Roster

Maintenance
Operations
Chief Petty Officers
Safety
Admin & Personnel

MMCM(SW) DOUGLAS EICHINGER
COMMAND MASTER CHIEF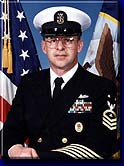 Master Chief Eichinger joined the Navy in August 1976. He went to Boot Camp in Orlando, Florida then was assigned to Machinist's Mate "A" School in Great Lakes, Illinois. After graduation from "A" School, his first duty assignment was USS JOUETT (CG-29) in San Diego, California where he made 2 deployments to the Western Pacific. It was onboard USS JOUETT that he was advanced to Petty Officer Third and subsequently to Petty Officer Second Class.

Master Chief Eichinger left active duty from July 1980 until February 1982. Following a brief NAVET training, he reported for duty to the USS HORNE (CG-30) in San Diego, California where he made 2 deployments to the Western Pacific. He was advanced to First Class Petty Officer and served as LPO of "M" Division.
In March 1987 he was transferred to NAS Whidbey Island, Washington and was subsequently advanced to Chief Petty Officer. He performed duties as the command Educational Services Officer.

In August 1989 he reported to the USS ROANOKE (AOR-7) in Long Beach, California where he made 1 Western Pacific and 1 South American deployments. In 1991 he volunteered for and was accepted to the Navy Drug and Alcohol Counselor Program. After attending an intensive 12 week training he reported to Naval Hospital Great Lakes, Illinois where he was advanced to Senior Chief Petty Officer. In January 1995 he attended the Senior Enlisted Academy, Class 65, in Newport, Rhode Island. He returned to Great Lakes and served as the Leading Chief Petty Officer for the Mental Health Department.

After a highly successful tour he was selected for Master Chief Petty Officer. He reported in June 1996 to USS NASHVILLE (LPD-13) in Norfolk, Virginia where he made 1 Mediterranean deployment. He volunteered for and was selected for the Command Master Chief Program. Master Chief Eichinger reported to VF-32 in April 1998.

Master Chief Eichinger is authorized to wear the Enlisted Surface Warfare Specialist pin, Navy Commendation Medal (2), Navy Achievement Medal (5) and various campaign and unit awards.