COMMANDER WILLIAM T. COONEY
COMMANDING OFFICER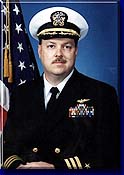 Commander William T. Cooney was born in Sacramento, California. He graduated with a Bachelor of Business Administration degree from Wichita State University, Wichita, Kansas in December 1982. CDR Cooney joined the Navy as an Aviation Reserve Officer Candidate (AVROC) in January 1983 and was designated a Naval Aviator on 31 May 1985.
After completing the East Coast F-14 Fleet Replacement Squadron (FRS), he reported to VF-11, the "World Famous Red Rippers", aboard the USS FORRESTAL (CV-59).
From April 1986 to November 1988 he made two deployments, one to the Mediterranean Sea and one to the Indian Ocean.
In December 1988, CDR Cooney reported to VF-101 "Grim Reapers" for duty as a Fleet Replacement Squadron Instructor and Model Manager for the F-14A and F-14B models. While assigned to VF-101 he crossed trained as an adversary pilot with VF-43 flying the A-4 Skyhawk.
In June 1991, CDR Cooney reported to VF-32 "Swordsmen" aboard USS JOHN F. KENNEDY (CV-67) where he completed one Mediterranean deployment. While in VF-32 he served as Assistant Operations Officer and Assistant Maintenance Officer. During his tour in VF-32, CDR Cooney was selected as Fighter Wing Atlantic's 1993 Fighter Pilot of the Year.
In July 1993, CDR Cooney reported for duty as Readiness Officer for Commander, Fighter Wing U.S. Atlantic Fleet. Following refresher training at VF-101, CDR Cooney reported to VF-32 in October 1994 aboard USS DWIGHT D. EISENHOWER (CVN-69) where he served as Operations Officer and made one Mediterranean deployment.
In April 1996, CDR Cooney reported to the Joint Staff in Washington, D. C. serving as Operations Officer and Senior Emergency Actions Officer in the National Military Command Center.
In March 1998, he reported to VF-101 as Executive Officer and for F-14 refresher training. CDR Cooney joined VF-32 as Executive Officer in December 1998 while deployed on the USS ENTERPRISE (CVN-65) in the Arabian Gulf and flew combat missions during Operation DESERT FOX. In April 2000, CDR Cooney assumed command of VF-32.
CDR Cooney has accumulated over 700 arrested landings and over 3,500 tactical flight hours with over 3000 hours being in the F-14. His decorations include the Defense Meritorious Service Medal, Air Medal (with combat "V"), Strike/Flight Air Medal (with numeral 1), Navy Commendation Medal (three awards), Navy Achievement Medal (two awards) and numerous unit and campaign awards.
Commander Cooney is married to the former Vicki Lynn Robertson of Winchester, Virginia. They presently reside with their son, James, in Virginia Beach, Virginia.