COMMANDER MARKHAM K. RICH
EXECUTIVE OFFICER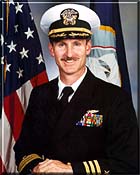 Commander Rich is a native of Jacksonville, Florida. Upon graduation from the University of Florida in 1983, he was commissioned an Ensign and designated a Naval Flight Officer in 1984.
After initial F-14 training in VF-101 he was assigned to the TOPHATTERS of VF-14. During this tour, he completed a Mediterranean deployment in USS JOHN F. KENNEDY (CV-67).
Commander Rich returned to the GRIM REAPERS in 1988 as a Radar Intercept Officer Instructor, becoming one of the first to qualify in the F-14A+ aircraft, later designated the F-14B.
Following his tour as a FRS instructor, Commander Rich returned to the fleet with the PUKIN DOGS of VF-143, serving as the Assistant Maintenance, Assistant Operations, and Administrative Officer. He completed two Mediterranean and Red Seas and Arabian Gulf deployments while in VF-143 in the USS EISENHOWER (CV-69).
Commander Rich was then assigned to the Naval Postgraduate School, where he received a Master of Science degree in Space Systems Operations, graduating with distinction.
Commander Markham K. Rich reported to the DIAMONDBACKS of VF-102 in 1995. While with the DIAMONDBACKS, he served as the Operations Officer and Maintenance Officer, and completed his fourth deployment to the Mediterranean and Red Seas and Arabian Gulf in USS AMERICA (CV-66).
His next assignment was to the Policy and International Affairs Division, Plans Directorate of the United States Space Command, where he served as the Chief of Warning Policy and Russia Desk Officer.
In 1999, Commander Rich again reported to the GRIM REAPERS of VF-101, this time as Executive Officer. He is also a graduate of the Armed Forces Staff College.
Commander Rich has accumulated more than 3,000 flight hours and 700 carrier-arrested landings. His decorations include the Defense Meritorious Service Medal, Meritorious Service Medal, Strike/Flight Air Medal, Navy/Marine Corps Commendation Medal (with Gold Star), Navy/Marine Corps Achievement Medal (with two Gold Stars), and numerous unit, service, and campaign ribbons and medals.
Commander Rich is married to the former Anne Brooks Rolfs of Rome, New York. The Riches reside in Virginia Beach, Virginia with their three children, Emily, Andrew, and Rebecca.