F-14 Tomcat:
History
Specifications
Bureau Numbers
Walk-Around Details
Squadrons
Photos
Books
Memorabilia

Other Topics:
Grumman A/C
EXTRA 400
A/C Photos
Links
Guestbook
Credits
The Author



F-14 Memorabilia

F-14 CD ROM | F-14 Squadron Prints | Other Squadron Prints | Prices & Payment
F-14 Squadron Prints:

Squadron prints (see below) are professional high-quality colour-prints on cardboard, size 29.7 cm x 42.0 cm (11.7 in x 16.5 in), NOT home-made (ink-jet) prints. Each squadron print includes a very detailed graphic of an F-14, a brief squadron history, a squadron logo and information about the shown Tomcat.

F-14 Squadron Print XXL: A special high-quality multi-aircraft print is available now! Click on the image to the right for details!




Squadron Prints: VF-1 ... VF-11, Prototypes VF-14 ... VF-213, Test Squadrons





All graphics Copyright © Torsten Anft


Squadron prints on display at the Grumman History Center, Bethpage & at the Grumman Memorial Park, Calverton (see image below):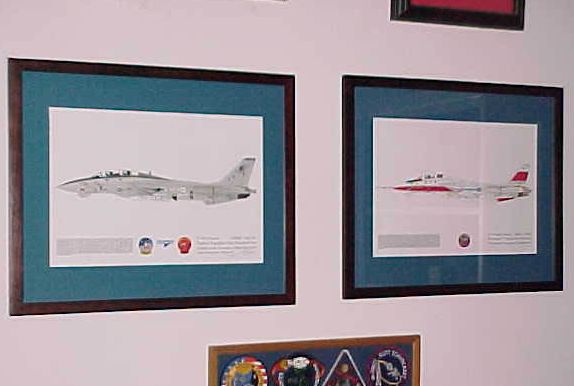 F-14 crews: Ask for a special print of your F-14 complete with its BuNo., Modex No., special markings and your names! Looking for a special squadron print with your latest cruise patch? No problem: Just drop me a note!

The following prints are available so far (click on images to view a larger sample):



The 30th anniversary print (below left) is available with any F-14 from any squadron you want!
| | | |
| --- | --- | --- |
| 1970-2000: 30 years F-14 | Grumman F-14A 1X, 1981 | Grumman F-14B, 1984 |
| Grumman F-14A (F-14D testbed), 1987 | VF-1 F-14A, 1974 | VF-2 F-14D, 25th Anniversary, 1996 |
| VF-2 F-14D, 2000 | VF-2 F-14D, 2000 | VF-11 F-14B, 1998 |
| | VF-11 F-14B, 1998 | |




Click here for more F-14 squadron prints of other squadrons.
Squadron Prints: VF-1 ... VF-11, Prototypes VF-14 ... VF-213, Test Squadrons



Are you looking for a squadron print that is not yet available? Would you like another colour scheme? Let me know and I will do my very best for you!



All graphics Copyright © Torsten Anft