VF-191 Squadron History
VF-191 Satan's Kittens
Base:NAS Miramar
Tailcode:'NM'
Callsign:'Hellcat'
Variant:F-14A
VF-191 and sister squadron VF-194 were the two shortest lived F-14 squadrons in history and are thus unfamiliar to many observers.
The original VF-191 took part in WWII, Korea and Vietnam. During the latter conflict the squadron took part in several combat cruises, flying variants of the F-8 Crusader. The image to the right shows a VF-191 F-8E about to trap on USS Ticonderoga (CVA-14) in 1968. The aircraft had an armament of 4x 20mm cannon (earning the F-8 the nickname 'Last of The Gunfighters'), but could also carry AIM-9 Sidewinder missiles on fuselage pylons (up to a total of 4) and ZUNI air to ground rockets or 500lb dumb bombs on underwing pylons. Chaff was carried in dispensers under the rear fuselage. After Vietnam VF-191 continued operations with the F-8 until 1976, when they transitioned to the F-4 Phantom II. A single cruise in the F-4 followed, as VF-191 was disestablished in 1978.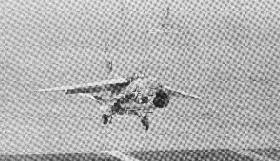 VF-191 F-8E about to land on USS
Ticonderoga. Click for a larger version.
The VF-191 established on the 4th of December 1986 can claim the unit's name and markings but it did not have the heritage of the original VF-191. After training with VF-124 and being due to deploy onboard the USS Independence as part of CVW-10 VF-191 was disestablished before the cruise could take place.
Image Courtesy of Torsten Anft
[Main Page] [F-14A] [F-14B] [F-14D] [Tomcat 21] [Atlantic Fleet Squadron Histories] [Pacific Fleet Squadron Histories] [F-14A Images] [F-14B Images] [F-14D Images] [F-14 Model Kits] [US Navy Air Wings] [A-6 images]