F-14 Tomcat:
History
Specifications
Bureau Numbers
Walk-Around Details
Squadrons
Photos
Books
Memorabilia

Other Topics:
Grumman A/C
EXTRA 400
A/C Photos
Links
Guestbook
Credits
The Author

VF-2 Bounty Hunters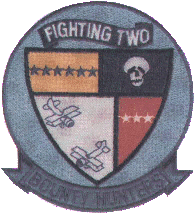 CALLSIGN: BULLETS

Fighter Squadron TWO traces its roots to the earliest days of Naval Aviation. Commisioned in 1922, Fighting TWO was the first squadron to deploy aboard the US Navy's first aircraft USS Langley (CV-1). Throughout the 1920's and 30's, VF-2 operated from a variety of carriers and saw aviation's transmission from two wing, fabric covered bi-planes to the first all-metal monoplanes.
During WWII, VF-2 compiled an outstanding record in combat. From the carrier USS Lexington (CV-2), VF-2 halted the Japanese expansion toward Australia during the Battle of the Coral Sea. While flying the F6F Hellcat fro mthe decks of USS Enterprise (CV-6) and USS Hornet (CV-12), the squadron destroyed over 500 enemy aircraft and sank over 50,000 tons of enemy shipping while losing only seven of their own planes. Life Magazine described Fighting TWO as "The Hottest Fighter Squadron in the Pacific".
At the end of WWII, VF-2 was disestablished, and remained absent from Naval Aviation for 27 years until it was selected to introduce the F-14 Tomcat to the fleet. Reestablished at NAS Miramar 14 October 1972 the squadron completed crew training and received it's first F-14s in July 1973. Full squadron strength of 12 aircraft was reached in spring 1974 since Tomcat production was still running at a fairly low rate.
As with VF-1 the squadron flew top cover over the Saigon evacuation in Operation Frequent Wind. The squadron formed the TARPS unit for both CVW-14 and CVW-2, deploying aboard USS Enterprise (CVN-65) at first, then switching to USS Ranger (CV-61) where they stayed till 1993, apart from a single cruise aboard the USS Kitty Hawk (CV-63) in 1984.
During it's time as an F-14 operator VF-2 has been highly successful in the various awards it has collected. These include 3 COMNAVAIRPAC (Commander of Naval Air Forces Pacific) Battle "E"s during the 1980's. A Battle "E" signifies the squadron is the most efficient in the Pacific fleet. VF-2 also won 3 Boola-Boola awards between 1985 and 1987, a prize given to the squadron that accumulates the most points on it's annual missile shoot. The coveted "Mutha" trophy was also won 3 times, an award presented to the best F-14 squadron in the Pacific fleet. VF-2 has also won awards in the West Coast TARPS, Fighter Derby, ECCM and High Noon Gunnery competitions.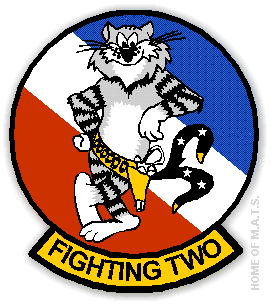 The squadron became the first to launch an F-14 from an aircraft carrier while towing an air to air gunnery target, this event occurring on 2nd of June 1984. In 1987 the squadron logged Ranger's 260,000th landing. As with VF-1 the unit took part in Desert Storm aboard USS Ranger, the carrier being one of two forward deployed into the Persian Gulf. VF-2 flew over 500 combat missions and and 1900 combat flight hours during the 43 day war. Unfortunately the squadron did not have the opportunity to engage any Iraqi targets and had to be content with escort, recon and CAP missions, playing an important part in ensuring the safety of Navy bombers to and from targets.
When Ranger was decommissioned in 1993 the squadron was left without a carrier. In 1994 it was decided to make VF-2 one of only three squadrons that would be lucky enough to upgrade to F-14D Super Tomcat. Having completed the transition the squadron was assigned to the newly refurbished USS Constellation (CV-64) and as of March 1994 was completing carrier qualifications along with the rest of CVW-2.
After their 1995 cruise VF-2 returned to NAS Miramar, but were only in residence for a few months before beginning the process of moving to the new home of almost all F-14 Tomcat squadrons-NAS Oceana. The move began in April of 1996 and was completed within a relatively short space of time. Once at Oceana VF-2 began training in earnest for their next deployment. During the later stages of this period the Bounty Hunters gained F-14's modified to carry the LANTIRN laser designation pod, giving them an all weather precision strike capability. Not all squadron aircraft were modified, the usual being 9 out of 14 (the others being the TARPS capable aircraft in F-14A & B squadrons, although all F-14D's are TARPS capable). During this period the F-14 passed 25 years in Navy service. To commemorate the event Grumman repainted an a F-14D from VF-2 in the 1970's light gull grey and white camoflage scheme, adding a "25 years-The Cat is Back" logo on the inside of the tails. The aircraft was BuNo 159630 a F-14A rebuilt to F-14D standards and one of the oldest still flying. VF-2 received this honour as it is the squadron that has been flying the F-14 longest.
Once all training was complete VF-2 deployed onboard the USS Constellation once more, beginning a WESTPAC cruise that will last several months. Since returning from cruise VF-2 visited NAF Key West, in November 1997, to sharpen their ACM skills.
Recently, VF-2 has won numerous awards including the 1995, 1997, and 1999 COMNAVAIRPAC Battle "E", the 1995 and 1997 Boola-Boola Award, the 1996 Bombing Derby Award and the 1997 and 1999 Safety "S" Award.



Click here for high quality Squadron Prints



F-14A



All graphics Copyright © Torsten Anft