F-14 Tomcat:
History
Specifications
Bureau Numbers
Walk-Around Details
Squadrons
Photos
Books
Memorabilia

Other Topics:
Grumman A/C
EXTRA 400
A/C Photos
Links
Guestbook
Credits
The Author

Grumman Memorial Park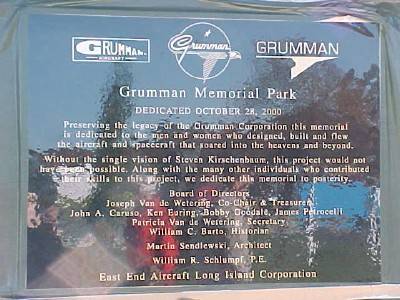 Saving Grumman Aerospace: The Grumman Memorial Park and Aerospace Museum at Calverton, Long Island, New York

by William C. Barto



In the motion picture Saving Private Ryan, a squad of US Army Rangers set out on D-Day to retrieve Private Ryan from his airborne outfit, already involved in combat deep inside France. Ryan's brothers, in other units throughout the world, have all been killed and he is the sole survivor. The squad's mission is to save Ryan so that his family can carry on.

Today, another squad of devoted individuals have embarked on saving the legacy of the Grumman Corporation, so that its history and contribution to aviation and space technology can carry on. This group of intrepid people is known as the East End Aircraft Long Island Corporation, a not-for-profit 501C3 qualified organization, and their mission is to preserve and maintain the legacy of such aircraft as the F-14 Tomcat, and spacecraft such as the Lunar Module. The site for this most worthy endeavor is ten acres of land at the former Grumman Final Assembly and Flight Test Center at Calverton, New York. The "squad leader" is the chairman of East End Aircraft, Mr. Steve Kirschenbaum, a resident of Calverton and active with the Riverhead Rotary. Other members of his "squad" (Board Members, that is) are: Mr. Joe Van de Wetering, a retired Grumman Deputy Director for all aerospace engineering; Mr. John Caruso, a retired Grumman Senior F-14 Engineer; Mr. Kenneth Euring, a former Grumman Plane Captain; Mr. Bobby Goodale, a Riverhead business man; Mr. James Petrocelli, a partner in a major construction firm; and retired Naval Flight Officer LCDR Monty Oakes. An Advisory Committee made up of individuals such as Mr. Tom Kelly who headed the Lunar Module design team, Mr. Bob Siemon, a retired Grumman Lunar Module and F-14 Engineer, and yours truly, former Assistant Corporate Historian, and many more that share the desire to maintain for future generations the heritage of Grumman, help to facilitate this endeavor.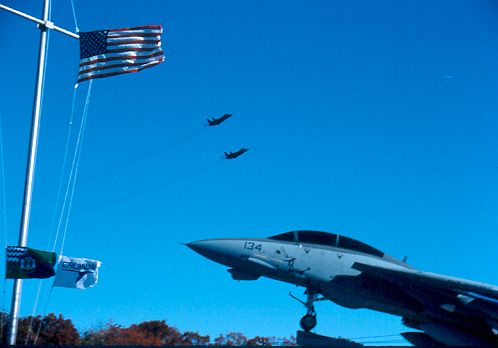 Photo: Two VF-101 F-14As perform a fly-by during the opening ceremonies. [Paul Hart]



Since the merger of the Grumman Corporation with Northrop in 1994, the property at Calverton has been turned over to the Town of Riverhead by the US Navy. Calverton was always Navy land. A common misconception among many is that Calverton belonged to Grumman, as Bethpage did. Development of the land is a high priority with the local government, however in 1998, East End Aircraft Long Island Corporation was given ten acres of land in the northeast corner of the property. This tract of land is also near the end of the ten thousand foot runway. Access to this runway will be a tremendous asset for future activities such as fly-ins, or air shows.

As many of our readers know, the Grumman Corporation first opened its doors for business in 1930 in a small unused garage in Baldwin New York. Founded by Leroy R. Grumman, and his partners Leon "Jake" Swirbul, Bill Schwendler, Clint Towl and Ed Poor, this small enterprise began by making floats for Vought scout aircraft used on Battleships. Current Navy fighters at the time had open cockpits and fixed landing gear, limiting their performance. Mr. Grumman realized that a fighter with both an enclosed cockpit and retractable landing gear would out perform many of its contemporaries. The FF-1 was born, and along with it a fighter lineage that culminated with the F-14 Tomcat. As the company grew, its location changed over the years. After Baldwin, Grumman moved to a facility in Valley Stream, New York. Not long afterward, Grumman relocated to Farmingdale, New York. But, as the company received more work from the Navy, and as it acquired more civilian contracts for its amphibian aircraft, a larger facility was needed. Enter Bethpage. A collection of potato fields that soon became the home of the most famous aircraft ever to take off from (and land on) an aircraft carrier. Names like Wildcat, Hellcat, Tigercat, and Bearcat were all produced at Bethpage, as well as the Navy's largest single engine torpedo bomber, the Avenger! Fast forward thirty years and the world's first, and still only, manned interplanetary spacecraft, the Lunar Module, also came from this hallowed ground.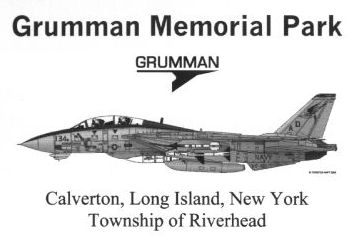 The dawn of the jet age began at the close of World War Two and Grumman's first jet designs could not be safely tested in Bethpage. After all, with the advent of returning GIs homes were being built all around the Bethpage complex. Flight testing jets was neither a quite, safe, or practical undertaking in a populated area. Enter Calverton. A US Navy facility located approximately 50 miles east of Bethpage in an area of Long Island much like the time when Mr. Grumman purchased the Bethpage tract. A 6,000 acre site, with plenty of room to test noisy jets and not disturb a soul. Here, flight test and development of such illustrious fighters as the Panther, Cougar, Tiger and Tomcat, not to mention the world famous Intruder, Prowler and Hawkeye, were conducted. Though production of the Lunar Module was confined to the "clean rooms" in Plant 5 at Bethpage, a mock Lunar surface was constructed at Calverton for the development of Grumman's entry in the design of a Lunar Roving Vehicle. Many of the astronauts that eventually walked on the Moon took their first steps on that mock Lunar landscape at Calverton.

During the 1980s, one look at any Forrestal, Kitty Hawk, or Nimitz class aircraft carrier would reveal an airwing composed of nearly 90% Grumman aircraft. The only type of aircraft on the boat not produced by Grumman were the helicopters! The two fighter squadrons would be F-14 Tomcats, with one of the squadrons designated with the reconnaissance mission using the TARPS pod. The attack squadrons would be made up of A-6 Intruders, with one of the squadrons designated to maintain the tanker aircraft; the KA-6D Intruder. An electronic jamming squadron would contain several EA-6B Prowlers, and the airborne early warning mission was handled by a squadron of E-2C Hawkeyes. And, in most cases, the Airwing Commander, or CAG, usually flew, depending on his background, his aircraft of choice, and it was almost always a Grumman aircraft. Odds were, that aircraft was a Tomcat! Add to that, the carrier on board delivery tasks were handled by C-2 Greyhounds!

Today Plant Six, where final assembly of F-14s, A-6s, EA-6Bs, and E-2Cs, and Plant Seven, Flight Test, sit empty and silent, their fate yet to be determined. With the formation of East End Aircraft Long Island Corporation, the legacy of what happened at Calverton, Bethpage, Farmingdale, Valley Stream, and Baldwin will forever be guarded. On this historic site at Calverton a one acre memorial will be erected as a tribute to a once proud and great company. The focal point of the memorial will be a large, specially designed pedestal displaying the ultimate in fighter design – an F-14A Tomcat! Surrounding the aircraft a "Walk of Honor" made up of specially engraved marble bricks will surround the display. These bricks can be purchased by individuals who worked, or know someone who worked, for Grumman. In addition, any individuals that ever flew, or maintained, Grumman aircraft both in and out of the military can purchase bricks as well. Their name, years of service, job title and program, or type aircraft flown, when, and their unit, will be engraved on the brick's surface. This will make for a lasting tribute to those thousands of Long Islanders who devoted a good part of their lives to Grumman. The remaining nine acres of the site will be devoted to an Aerospace Museum and History Center that will house exhibits of Grumman aircraft, and perhaps, someday, a Lunar Module (or mock-up). Artifacts, documents, blue prints, tech manuals, paintings, photographs and scale models of Grumman aircraft, and spacecraft, are just some of the other items that will be cared for in the Aerospace Museum.

Grumman Memorial Park is off to a great start. How many museums can boast that their center piece exhibit was flown in by the US Navy? But, as with all projects of this magnitude, we need your help. Supporters of Naval Aviation such as yourself can help. Spread the word in the Fighter, Attack, and other communities. Spread the word throughout your company. For more information, contact Grumman Memorial Park, P.O. Box 147, Calverton, New York 11933. Or, call 1-631-369-9488. Check us out at the web! Our internet address is: www.grummanpark.org. Just say: "I want to help save the legacy of Grumman Aerospace!"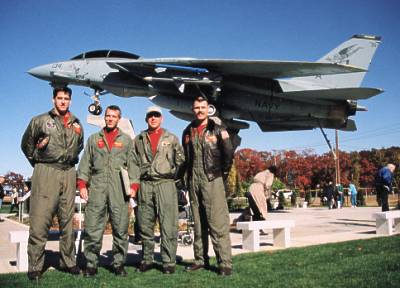 Photo: The aircrews of the two F-14As from VF-101 that performed the fly-by
on October 30, 2000 when the Grumman Memorial Park was opened.

Click here to visit the Grumman Museum online!